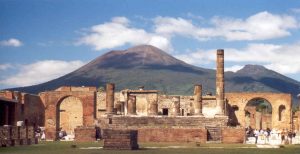 Visit the UNESCO World Heritage Site of Pompeii and the volcano that unleashed its fury on the city in 79 AD—Mount Vesuvius.
You will see how big the tragedy was when the Volcano erupted more than 2000 years ago, preserving intact all the other towns around the Vesuvius  with its unmistakable shape overlooks the Gulf of Naples.
An English speaking driver will meet you at the lobby of your hotel or at the exit of your cruise ship to drive you to Pompeii and  visit the ruins.
You will get the feeling to plunge in the past, discovering how old Romans lived: the thermal baths, the theatre with marble decoration, the "pleasure house" and the shops along the avenue of Pompeii .
After the visit of Pompeii , you will have a chance to taste the local cuisine and as soon as you get ready to discover the Vesuvius, the car will drive you up there  to start a walking to reach the crater and admire the view!
Your journey will ends here and the driver will take you back to your hotel or at the port.