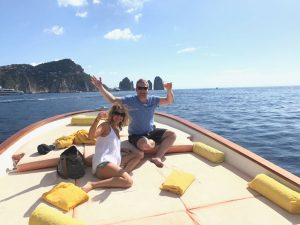 Enjoy the wonders of Capri with this private tour. You will visit Blue Grotto, Faraglioni and more with an exclusive experience!
If you want to be a VIP for one day, this is the perfect tour for you! You will enjoy Capri Island with a luxury experience. Let's discover the tour!
Capri is  located in the Tyrrhenian Sea off the Sorrentine Peninsula, o
n the south side of the Gulf of Naples in the Campania region of Italy and it is famous for its caves.
At first you will meet your personal guide at the port of Naples or Sorrento and cross to Capri by jetfoil.
At your arrival in Marina Grande, a captain with a Gozzo boat waits for you with cocktails and towels to lead you around the island visiting the famous Grottos and the Faraglioni.
An enchanting tour, in which the water changes its colours at each cave, reflecting a different shades, such as champagne, coral, emerald and the famous Blue. So Blue Grotto is the famous cave of the island and it is known for its intense Blue colour water. When you enter in the cave you will discover how small it is, so it can be visited only in weather is good.
When you are in the cave, you should get off your boat and jump in a rowboat, the only boat size allowed to pass the magic bow that will take you in a enchanting world.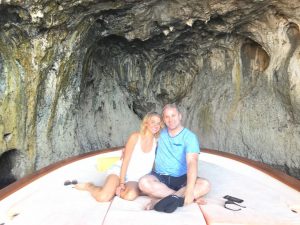 So you will enjoy the fabulous blue water and the darkness, with a fantastic piped music singed by the Capreese sailors.
Just some minutes for a jump in the water and then ride to the Faraglioni, island guardians, so enchanting to be the very icon of Capri in the world.
Just a tip: if you kiss your lover passing under the "love arch" of Faraglione Stella, your love will be eternal.
At the end of the boat tour, you will land on the solid ground and you will admire La Piazzetta and Via Camerelle, the luxury-shopping street. Here you could even meet VIPs having "Aperitivo" in one of the Cafés.
At the end to get back to Marina Grande's pier, you need to take the Funiculare, the cable railway surrounded by orange trees and facing the sea.
So if you want to live an exclusive experience, this is the right choice!